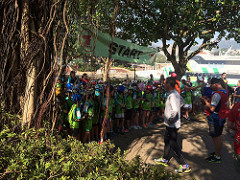 Team FEAR 2015 Results, photos, lost property and sponsorship
The Team FEAR 2015 race results are out – please check the front page of the website for the link.
Thank you again to everyone who gave up their time (and often their chance to see their children either start or finish) in order to marshal and ensure that the competitors had a happy race. Thank you also to the highly qualified medical team who gave first aid and encouragement to the competitors on the way around the course and ensured that everyone was safe and well cared for.
Our team of intrepid Team FEAR photographers are currently working hard to get the race photos together and they will be available online for download on 8 December. Many thanks again to Vince Ypersil and his team for their hard work on the day and the amount of time they give up editing and compiling the photos. There will be a link on our website to the Team FEAR Flickr page when they are released.
We have a few items of lost property – please check our Facebook page for images of things left behind.
Also don't forget to collect in your sponsorship money – many thanks to everyone who has raised money for Youth Outreach so far. Please make the sponsorship cheque out to Far East Adventure Racers and send it to Team FEAR c/o Discovery Bay Marina Club, Discovery Bay or hand it into DBIS Main Office. Don't forget there is a prize for the highest amount collected or the greatest number of sponsors. Winners get to abseil down the Youth Outreach wall next year!